Fixed possible issue with ACP login error

Added synchronization of user delete/activate in phpBB ACP Inactive Users list to Joomla
'Max Title Chars' setting was not applied in activity module
New SEO settings 'Prepend title with' and 'Append title with'
Fixed issue with synchronizing custom phpBB fields with CB
Updated the code for new activity stream in JomSocial 2.8.3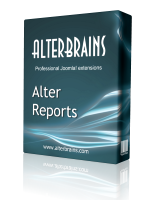 Complete full-featured tool for preview and download of SQL reports in your Joomla site.
AlterReports was designed as a native Joomla reporting extension which covers all needs and aspects of reports for your website. Using SQL queries with rich filters and conditional statements allows you to view and download reports of your database data in most convenient way.
Dear customer,
Our payment provider was confronted with a DDoS attack and can't accept payments now.
It is a high level attack, that could affect any system for a few days.
Thank you for your patience and sincerely apologize for the caused inconveniences.
Improved Joomla 3.0 compatibility. This update is highly recommended if you use Joomla 3.0.