Added sharing of Tags and Tags references of Joomla  3.1.
Fixed issue with overriding of slave sites' default language.
Fixed issue with dragging modules back to empty positions.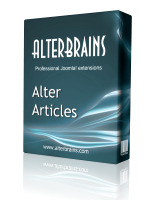 This plugin allows to expand functionality of Joomla articles with highly customizable map, gallery, attachments and related articles features.
Important update for Alter Reports:
New Subheadings row with ability to span above few heading columns.