News
Hurry and grab our Joomla extensions at an awesome 20% discount!
Nearing the most anticipated day of the year. Black Friday? No, it's Alter Friday!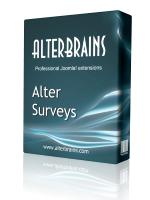 Powerful tool for organizing surveys or polls in your site with advanced statistics results. This extension is a comprehensive but easy-to-use Survey and Polling Tool. Alter Surveys is designed to create surveys or polls or forms, collect data and present advanced statistics results.
Support of new tables in Joomla 3.2 was added. Please re-save settings of your sites if they share Users or Content (required for Joomla 3.2 only).
Please install new version if you have Joomla 3.2.